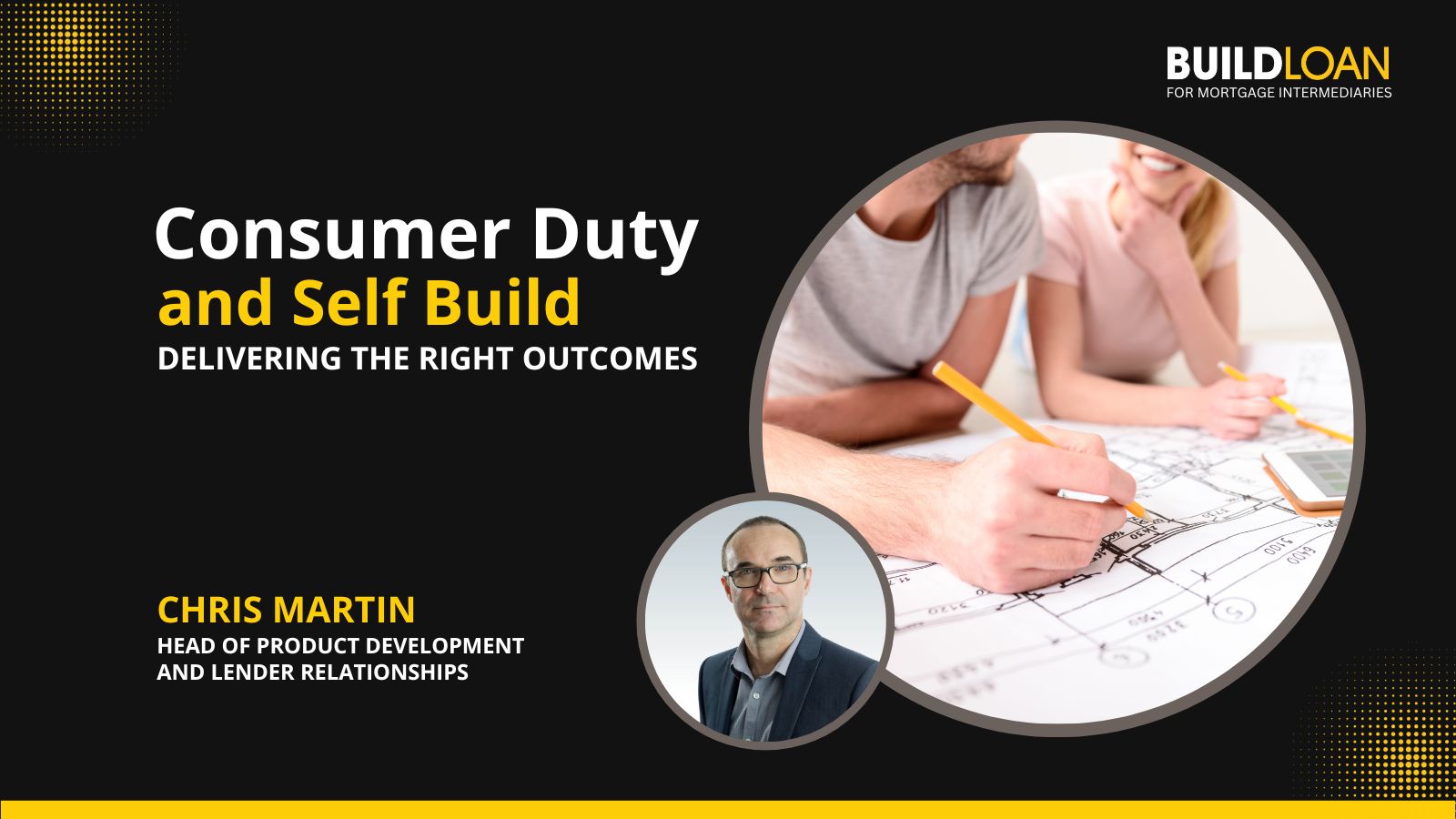 Chris Martin, Head of Product and Lender Relationships at BuildLoan, explains how mortgage advisers, in the light of Consumer Duty, can deliver good outcomes for their self build clients and avoid foreseeable harm.
We're all aware that Consumer Duty reinforces the need to evidence that you're delivering good outcomes for your clients – and avoiding foreseeable harm.
Self build in its various forms – including renovation and conversion projects – has its own risk of the client not being able to complete their build due to lack of funding.  This means not only making sure they can borrow enough to cover their costs, but also that they'll get the money at the right time during their build. As an adviser it's vital that you can show you've taken steps in your product choice to deal with the risk of the client running out of funds.
Sourcing systems work well for other forms of mortgage lending where the key factors are rates, fees, loan to value and loan size, but the filtering process isn't detailed enough to take account of the additional aspects you need to think about when finding the right product for your self build client.
These include how build costs are spread across the build, the construction method being used, and whether the client already owns their plot.  These factors all affect when money will be needed, and therefore, what kind of product is most suitable.
Some lenders offer products which calculate the amount available to the client at any time based purely on an assessment of the value of their project at any time linked to a loan to value limit. This can work for some projects, but adds a huge amount of uncertainty to the process as there is always the risk that the client doesn't get the money they need during the build if their site is downvalued.
BuildLoan's products uniquely release funds during the build aligned purely to construction costs as they arise, with no LTV limits during the build.  Funds can be made available in advance of work being carried out, which is a fantastic solution for clients building using systems such as timber frame which are manufactured offsite. These systems usually need paying for before they are delivered and therefore before any value is added to the build, so may not work with a product which relies on an increase in site value to release more funds.
As part of the application process, our specialist team will work with you and your client to make sure their expected build costs are realistic, and stage payments are then agreed with the lender as part of the application process.  This takes away any doubt as to whether the client will have the money to cover their costs as they progress through the build.
We have over 60 exclusive products along with support processes which have been established over more than two decades, and a proven track record of delivering great outcomes to more than 30,000 people who we have helped build their own home.
Our broker desk team have unrivalled knowledge of what's needed to make a self build project a success – they will guide you through the process, and work with you to identify suitable products for your client.
We've developed a one-page guide to Consumer Duty and self build which you can view here, and which demonstrates how BuildLoan provides unrivalled support in delivering good outcomes, and helps you to avoid foreseeable harm.