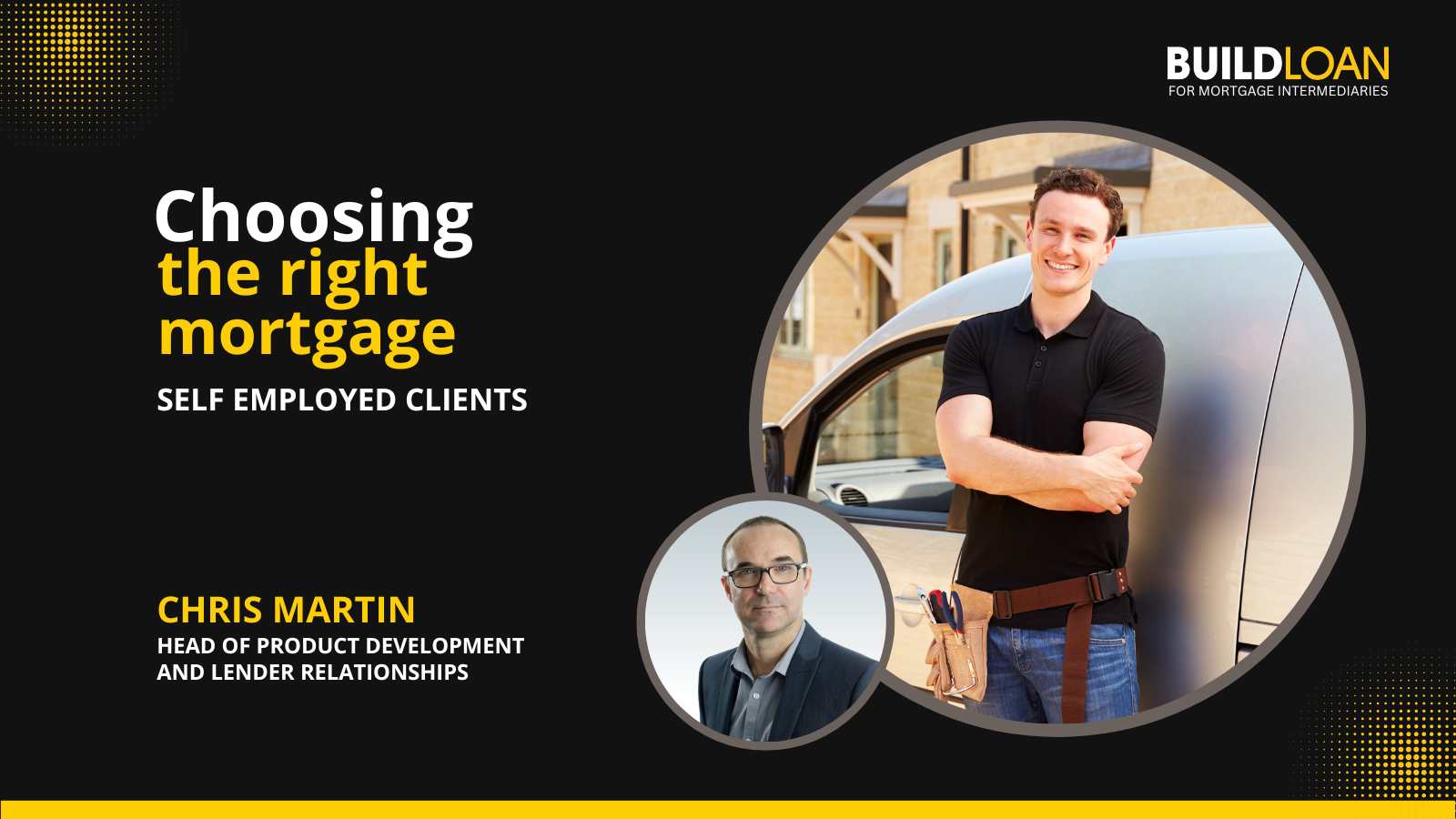 'Choosing the right mortgage' is a series of articles written by Chris Martin, Head of Product and Lender Relationships at BuildLoan, exploring the different factors brokers must consider when advising customers undertaking a self or custom build project.  This third article looks at self and custom build mortgages for the self employed.
Self build continues to be a really popular option for the self employed, with around one third of enquiries we've received in the last twelve months coming from people who run their own businesses.
The reasons are probably two-fold – those with some connection to the construction industry who realise that with their trade skills and knowledge, they can keep costs down and build an excellent quality, great value home – and the fact that self employed are more naturally inclined to do something a bit different and look for new challenges in other parts of their life.
So how will self and custom build lenders assess a self employed applicant's income?
In practice, they will look at this in much the same way as for any other mortgage – the most important thing is to see consistency – usually over the last two or three years.  Any significant drop in income or profits will be of concern unless this can be explained, perhaps by a one-off item in the accounts. Conversely, lenders are unlikely to base their lending on the most recent year if the figures are much higher than previous years as it won't be clear if the increase can be sustained.
In terms of evidence of income, for company directors most lenders will focus on a salary and dividend calculation to work out annual income.  Some lenders will consider using profits – even if not paid out – which can lead to a higher loan being offered.
For sole traders and partners, all of the lenders we work with at BuildLoan will work from the last two or three years' net profits.
An important area to consider is how your client will continue to maintain their business while building their home – they need income coming in to pay their new self build mortgage! This question is likely to be asked by any prospective lender, so it's important to discuss this with your client early on and understand how hands-on they expect to be and, therefore, how this could affect their income.
One of BuildLoan's key benefits is our in-house costings service – our very experienced cost assessors will work with your client to put together an accurate forecast of the build costs based on plans and drawings and the latest industry data for materials and labour. For applicants who are in the trade, this will always include an understanding of what realistic savings can be made through the client completing some of the work themselves and perhaps being able to source materials more cheaply.  The process is an integral part of the application and making sure that the client's expectations of how much the build will cost to complete are realistic – and can then be finished successfully – will help you meet the Consumer Duty requirements to avoid foreseeable harm.
At BuildLoan we have over sixty exclusive cost based mortgage products which offer guaranteed stage payments through the build linked to their project costs NOT a site valuation – giving huge confidence to your client that they will get the money they need, when they need it. All of our products are funded by regional building societies, who have the advantage of being able to look individually at every applicant and take a common-sense view, focussing on the clients' overall position and history – even more important for self build applicants.